San Jose, CA (June 30, 2021) – A driver was killed in a crash that occurred on a South Bay freeway Wednesday afternoon, June 30, authorities said with the California Highway Patrol said.
CHP reported the collision around 4:15 p.m. and said that it occurred on the southbound Interstate 880 off-ramp to Bascom Avenue in San Jose. CHP Officer Ross Lee said that the driver, described as a man between 50 and 60 years old, was pronounced dead at the scene before EMS could transport him to an area medical center for treatment.
Lee said that the troopers' initial investigation revealed that a Mazda3 had crashed into a concrete barrier separating the southbound on- and off-ramps and overturned. It's unclear how many drivers were involved in the incident, though they say that the deceased was driving the Mazda3.
Lee said that the off-ramp was closed for an investigation for at least two hours. Further details surrounding the circumstances of the wreck have not been released, but the investigation is ongoing.
Our deepest condolences go out to the family of the deceased victim at this time.
Bay Area Car Accident Fatalities and Injuries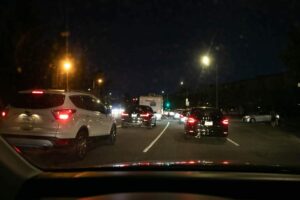 Authorities throughout San Francisco and the wider Bay Area say that more than 30,000 traffic accidents resulted in fatalities, major injuries, or minor injuries on Bay Area roadways over the last several years. As a result, thousands of lives are lost every year on California's highways, which include major thoroughfares connecting large city centers, local streets, busy intersections, and beyond.
Serious car accidents causing injuries or even fatalities are an unfortunately common part of life in California. When multiple victims are injured in an accident, they may have to deal with other drivers' insurance companies, long-term physical pain, and expensive hospital bills. Occasionally, as a result of these incidents, victims succumb to their injuries, leaving their grieving families to cope with emotional trauma and financial difficulties as a result of another driver's negligence.
But the victims and their families affected by these wrecks can seek help from a California injury attorney. A skilled attorney in California can help victims seek justice and the fair compensation they deserve after suffering in an accident that occurred through no fault of their own.
Gene Halavanau at Halavanau Law Office strives to help victims and their families in their time of need. At Halavanau Law Office in San Francisco, our team can help you collect the maximum amount of compensation available for your injuries and losses. Victims and their families should never be forced to spend tens of thousands of dollars of their own money on medical treatment, especially if their injuries resulted from an accident caused by the careless, reckless, negligent, or intentional actions of another party.
At Halavanau in San Francisco, our compassionate, dedicated legal team will gladly review the facts of your case and tailor our advice to match the specific needs of your case. We have years of experience when it comes to fighting for victims and their families. If you've been involved in a crash caused by the negligent actions of another driver, contact our accident attorneys in San Francisco today at (415) 692-5301 or Halavanau.com to schedule your consultation.
Notes: Outside sources were utilized in the creation of this post. These sources include but are not limited to local TV news sources, local news articles, local police incident reports, state police bulletins, social media posts, and eyewitness accounts about injury accidents that take place in the greater San Francisco Bay area. We do not independently verify all of the facts surrounding these accidents. If you identify any information that is not correct, please notify our firm immediately so that we can correct the post to reflect the most accurate information available. If you would like the post to be taken down for any reason, please let us know and we will remove the posts as soon as possible. 
Disclaimers: The purpose of this accident news post is to bring awareness to drivers in and around the Bay area about what they should do if they are involved in an injury accident. We hope that readers will use an abundance of caution when operating a motor vehicle to avoid being involved in a serious accident. This news post is not intended to be a solicitation for business. None of the information in this post should be considered medical or legal advice. Make sure to talk to a qualified personal injury lawyer if you have been injured in an accident through no fault of your own. The picture used in this post is not from this accident scene.