Car accidents are one of the leading causes of catastrophic injuries and death among vehicle drivers. In California, car accident victims may be entitled to recover compensation for the damages they sustained in the accident. However, any legal claims you may file against the at-fault driver are subject to California car accident laws. Thus, it is crucial to understand how fault is determined in a motor vehicle accident, your obligations as a car driver, and things that can affect your ability to obtain compensation.
In California, various state laws may apply in a car collision. These state laws determine what damages are available, how insurance claims are handled, and when a claim must be filed.
So in this blog, we include everything you need to know about car accident laws in California. Furthermore, if you want to speak with a car accident lawyer, you can contact us at (415) 494-8535 or reach us through our online contact form.
Minimum Insurance Coverage Requirements
Car owners who register their cars with the State of California must provide evidence of financial responsibility. Thus, car owners need to purchase a car insurance policy to fulfill their legal requirements as owners of a registered vehicle.
California imposes specific minimum insurance coverage requirements. Vehicle owners are required to be financially responsible for any vehicular accidents they may be involved in. California Insurance Code §11580.1b stipulates these minimums. This is established to ensure that all accident-related costs, property damage, or personal injury are covered. All car drivers are mandated, under California Vehicle Code §16056, to maintain a minimum of 15/30/5 insurance coverage on all their registered vehicles. It includes:
$15,000 for injury or death to one person;
$30,000 for injury or death to more than one person; and
$5,000 for property damage.
Drivers must have readily available proof of insurance at any time. They must show their proof of insurance when:
They renew their vehicle registration;
They are requested by law enforcement; and
They are involved in an accident.
Suppose drivers fail to provide proof of financial responsibility. In that case, they will be fined, or their license will be revoked if they are involved in motor vehicle accidents.
Uninsured Motorist Bodily Injury and Underinsured Motorist Coverage
Per California Insurance Code §11580.2, an insurance company must offer uninsured motorist bodily injury and underinsured motorist coverage. These insurance policies are intended to provide coverage for any injuries or property damage if you are involved in an accident with a vehicle driver who does not have enough insurance or does not have valid insurance.
Uninsured motorist bodily injury coverage. This covers the cost of damages you and any passenger in your car sustained caused by an uninsured driver.
Underinsured motorist coverage. This policy makes up the difference if a driver causing the accident does not have enough insurance to pay for the damage.
Drivers are not legally required to purchase these types of insurance. However, you must do so in writing.
Other Forms of Car Insurance Coverage
Drivers can also consider purchasing supplemental insurance policies aside from the required 15/30/5 coverage. There are times when the required minimum coverage is insufficient to cover the total extent of the injuries and damage inflicted by an accident. The following types of insurance coverage are helpful to cover you or anyone affected by an accident fully.
Comprehensive coverage
Medical payments coverage
Theft coverage
Collision coverage
Other Methods to Establish Financial Responsibility
Aside from purchasing the minimum car insurance coverage to establish financial responsibility, alternative methods are also available. Per California Vehicle Code §16002, car owners can also present the following as proof of financial responsibility:
$35,000 cash deposit paid to the DMV;
Certificate of self-insurance issued by the DMV; or
At least $35,000 surety bond issued by a company licensed to do business in the state.
Requirements in Reporting a Car Accident in California
California requires motorists to stop at the accident scene when involved in a car accident. They are also required to:
check if other people have been injured;
render help to those who are injured;
exchange personal information with other involved parties.
Do I Need to Report a Car Accident to California Law Enforcement?
Per California Vehicle Code section 20008, when involved in a car accident, the driver or any representative of the driver must make a written report of the crash within 24 hours to the California Highway Patrol or the city's police department where the accident happened. The reporting is mandatory if the car accident resulted in the death or injuries of any person.
However, suppose a law enforcement officer arrives at the accident scene and prepares a written report of the accident on behalf of the agency. In that case, you don't have to make your written report.
Do I Need to Report a Car Collision to the DMV?
The state requires anyone involved in a car accident to report the crash to the California DMV within ten days if:
There were injured individuals during the accident;
The accident resulted in death.
The accident resulted in property damage of more than $1,000 (real property or vehicle damage).
You can go to California Vehicle Code sections 20000 to 20018 to learn more about California's car accident reporting rules. You can also get a copy of the Form SR-1 here, which you will use to file the accident report.
Do I Need to Report My Car Accident to My Car Insurance Provider?
There are no specific laws in California that require anyone involved in a car accident to report the crash to their respective auto insurance company.
But, insurance companies require their policyholders to report a car accident to them very soon after the crash. The sooner you report the accident, the sooner they can investigate the claim. Suppose you fail to report the accident to your insurance provider immediately. In that case, they may deny coverage connection with the car accident. Insurance companies can give as little as one or two days, depending on the accident's circumstances, for their insured to report the accident to them.
In conclusion, no matter how minor your accident is or it is not a matter of a "reportable accident" in California, you still have to report it to your car insurance company to ensure that they will cover the accident if you need it.
Drivers Have Obligations When Entering a Highway in Californa
Most California car accidents are the aftermath of vehicle drivers failing to yield properly when entering and exiting highways. California car drivers need to understand their obligations and duties while on the road towards other drivers. The doctrine of preemption in California necessitates all drivers entering a highway to yield to traffic and employ appropriate caution.
Per California Vehicle Code §21800, vehicle drivers entering from a private or public drive must yield to pedestrians on that highway and oncoming traffic. It includes roads, parking lots, and driveways. The car driver can turn onto the highway if there is sufficient time to enter the highway without interrupting the traffic flow. Other drivers must yield to avoid harm once the driver has entered the roadway.
As stated in the same vehicle code, vehicle drivers who need to cross a highway from a private or public drive, at any place except a marked intersection, must yield to pedestrians on the highway and oncoming traffic and wait until it is safe to cross. Once the driver has begun crossing the highway, oncoming traffic must yield to avoid accidents.
What to Do After a Car Accident in California
People must understand what they should do right after a car accident in California. There are essential steps to take to prevent the progression of injuries and preserve individual rights. The following are the essential things you should do after a car accident in California.
Call 911 immediately if there are injured people who need medical attention;
Check on the other driver and passengers for any injuries if you can do so;
Report the accident to the local authority or police that handles vehicle accidents;
Exchange information with the other driver: names, address, contact number, license number, license plate, and VIN, insurance information;
Obtain witnesses' information such as names and contact information, which you may need later;
Document the accident scene by taking pictures of damages to vehicles, traffic controls, visual obstacles, accident scene, property damage on the roadway, and any relevant nearby signs;
Notify your insurance company;
Contact a car accident lawyer to help you if you decide to file a claim against the other parties involved.
Damages Available to Car Accident Victims in California
In California, personal injury victims have the right to recover damages from the at-fault driver. Accident victims can recover non-economic damages and economic damages.
Economic Damages. Economic damages are objective in nature. These entail any losses that involve monetary value, such as:
Lost wages
Medical bills
Loss of business opportunities or employment
Loss of the use of property
Costs of property repair or replacement
Burial expenses
Non-Economic damages. Non-economic damages are subjective in nature. These entail non-monetary losses that the victim suffers. These include:
Loss of consortium and companionship
Pain and suffering
Injury to reputation
Emotional distress
Mental suffering
Humiliation
Inconvenience
Availing the service of experienced personal injury lawyers is vital to obtaining a fair compensation amount. Insurance companies will work hard to avoid paying you what you truly deserve.
The Recovery of Damages Has Limitations
California car accident law restricts the recovery of non-economic damages in specific situations. Car accident victims are not allowed to recover compensation for mental distress, physical disfigurement, pain and suffering, inconvenience, physical impairment, and other non-economic damages if:
They are convicted of a DUI offense;
They do not have car insurance;
They cannot establish financial responsibility as required by the law.
Car Accident Liability Laws in California
It is crucial for people involved in a car accident to understand how fault is determined in California. Determining liability boils down to negligence, proving that someone drove recklessly that caused the accident.
Comparative Negligence Rule
California adheres to a pure comparative negligence system. This system entails that more than one person or entity can be held financially responsible for the damages. In this rule, each at-fault party is liable for their portion of the fault. It also ensures that car accident victims can recover compensation for at least a portion of the damages inflicted on them by the accident. Thus, it ensures that victims will not be barred from recovering compensation if they are partly liable for the accident.
Suppose you and a certain Mary are involved in a California car accident. You ran a stop sign, and Mary was speeding. As a result, you and Mary suffered $200,000 in damages. You are both liable for a portion of the damages. Each of you will be allocated a certain percentage of fault. You are found to be 20% at fault, and Mary was 80% at fault. In that case, you will be liable for $40,000 of Mary's damages (20% of $200,000). And Mary will be liable for $160,000 of your damages (80% of $200,000).
Statute of Limitations for Car Accidents in California
California has a time limit that accident victims need to meet when filing a legal claim for damages. This deadline depends on the type of damage you suffered in an accident.
For property damage, victims have three years starting from the time of the accident to file a personal injury claim.
For bodily injury, victims have two years starting from the date of the accident to file a personal injury lawsuit.
Tolling the Statute of Limitations
There are rare circumstances when the statute of limitations can be prolonged. In this scenario, the statute of limitations is "tolled." It means that it is paused until a specific event happens. These rare scenarios include:
Government Accelerated Claims
In cases where the government is believed to be liable for the car accident, victims can recover damages from the government. But, when the government is involved, the statute of limitations for filing an administrative claim is only 180 days.
Speak to an Experienced California Car Accident Attorney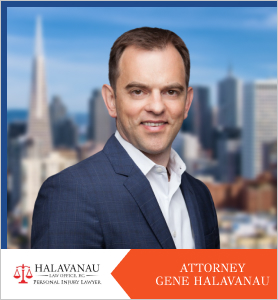 Hiring a California car accident lawyer to handle your car accident personal injury lawsuit can help you recover maximum compensation for your damages. At Halavanau Law Office, our personal injury attorney understands how essential a financial reward for the victims can be. We will fight and work tirelessly to have you fairly compensated for your damages. We successfully helped numerous clients recover the maximum compensation they deserved before. We have recovered millions of settlement awards for our previous clients. And we can help you too!
Our California personal injury lawyer has in-depth knowledge and understanding of California car accident laws. He also has extensive hands-on experience in case litigation. This altogether has powered us to offer unparalleled legal services to car accident victims.
Reach us today to speak with our car accident lawyer. During your free consultation, our lawyer will analyze your case if you have a valid personal injury case and help you understand how to secure a fair settlement award for your injuries.
Our California car accident law firm handles car accident cases on a contingent fee agreement, so our clients need not pay any amount until we successfully recover compensation for them.